Really thick permanent eyebrows microblading!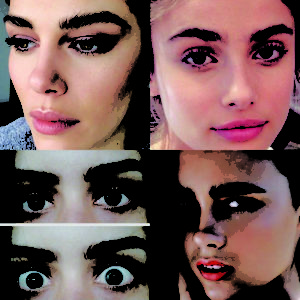 Can you give me really thick permanent or microblading eyebrows?  This is a question I get asked a lot.
Today's brows are thicker than those of the years gone by.  Many celebrities have them.   If you are fortunate enough to have a lot of natural eyebrow hair, then by all means embrace them!  Groom them, shape them and count yourself as blessed!
If you're among the many who have over tweezed, over plucked, or have had health issues or bad genes and don't have thick eyebrows, let's talk.
Although thick brows are all the rage right now, they're a trend.  A fad.  A style.  A craze.  Whatever you call it, it means what comes around will eventually go bye-bye.  Trends come and go.  You don't want to have a thick, tattooed eyebrow on your face when the time comes and you decide you've had enough and want thinner brows.
When tattooing your brows on, (yes, microblading is also a tattoo) you want to keep your brows about medium thickness.  Not too thin (pencil line brows have never looked good on anyone) and not too thick.
A good brow artist should help you decide on a shape and size that is pleasing to your individual face.  She will steer you away from going to heavy and thick.    She will draw on your brows and discuss size and shape with you.  Don't be afraid to speak up so they know what your concerns are.  If you don't like the shape, ask her to redraw them again. After all, it is your face!
Once your new permanent makeup brows have healed, you can wear makeup on them.  If you want more dramatic, thicker eyebrows then use regular makeup on them for your special event, or even daily.  But you won't be stuck with them when you don't want them.
For more information about replacing your lost eyebrows and other permanent makeup services please visit CarolinaPermanentCosmetics.com.
If you are not local, I will tell you it's worth traveling to get Darlene to do your permanent eyebrows.